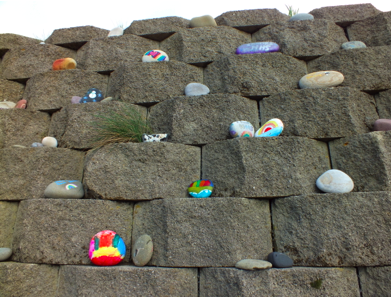 Rotherslade Pebble Wall
I haven't been venturing on the beaches much this summer, despite Langland and Caswell being only a ten minute walk from my doorstep. Covid-19 and the concern of the large crowds of visitors arriving after lockdown restrictions were lifted – combined with the fact that I wasn't able to take my dog for a walk on the beach during May through to September - meant that I found other places to seek the solitude and peace which I so needed in order for me to get me through what has been some dark months. With October 1st arriving however - the date when dogs were allowed back on the sand and into their beloved sea - I have rediscovered the seashore once again.
Rotherslade Bay, which is just around the sands from Langland, has always been a favourite place of mine to relax and watch the sunsets - the elevated position of the walkway, gives the early evening visitor a spectacular light show on a clear night. Since my last visit, a subtle addition to the landscape has occurred which has made me love the place even more. The stone wall on either side of the steps leading down to the beach has become a public expression of hope in an uncertain time. Lining the niches in the wall are hundreds of pebbles, painted with messages of positivity and remembrance. Some thank the NHS and the key workers; some are simple colourful images painted by children; others simply share an insightful thought. All however make you feel you are experiencing a sense of community and a shared journey through these difficult times.
This wonderful example of modern day folklore – a creative response to dealing with the awful situation we find ourselves in at the moment – is still being added to. Poems and Haiku regularly appear on pebbles created by local poet Jim (Photo below - Twitter @Baitthelines). Rotherslade's Pebble Wall also seems to have become part of a larger acknowledgement of wanting to remember the life – and death – of those we love and care about. One poignant large stone declares "R.I.P. Jimmy Denton 1951-2015 Where the sea meets the sky". Amongst the brightly painted stones, are ones placed there without adornment. For those visitors who have no pen or paint to hand, a pebble picked up from the beach which has caught their eye, serves as a memorial or memento to a private reflection.
Rotherslade's pebble wall stands as a bright and colourful reminder of the now familiar 2020 phrase "We are all in this Together." It is an expression of so many things: the gratefulness we feel to our key workers, an acknowledgement of solidarity with others, the need for colour in the world right now and above all, it is an expression of shared hope. Simple as it may be in design, the message is a powerful one: we stand together.