The Gower Coin Tree
One of the few bright sides of this Covid pandemic is that I have begun to seriously discover the Gower and its secrets it has to offer. The area is abundant in heritage and has beautiful nature, and I feel blessed to have this on my doorstep, especially at a time when life looks so uncertain and daunting.
As part of my local sightseeing adventures, I recently went to Three Cliffs Bay. It was my first ever visit there I am ashamed to say. Parking on the Gower Heritage Centre - where I would return for welcome tea and cakes later - I joined a group of like-minded walkers - 3 dogs in tow - on a socially-distanced foraging walk, following the route of Pennard Pill, led by Helen Nicholas of Gower Unearthed and Andrew Thomas Price of Dryad Bushcraft. The glorious autumn sunshine gave me my first glimpse of Pennard Castle, standing high upon the hill, losing none of its majestic presence despite it now being in ruins. How had I not sought this wonderful site out before, I kept asking myself, as Helen told stories of hags and treasures associated with the castle. We walked to the Bay, sampling leaves and berries as we came across them – directed by Andrew as to what was safe to eat – and I found a child-like pleasure in crossing the sparkling water at the stepping-stones. A beautiful, enlightening and calming morning was enjoyed in the company of new friends.
It was whilst walking back through the wooded pathway, nearing the end of our journey that I let out a cry of delight, startling those who walked around me. Lying next to the path was a felled log with hundreds of coins firmly embedded into the wood. It was a coin-tree! I had heard about them and seen many photographs on-line, but to see one in person was enchanting, unexpected and to me as a folklorist…pretty exciting.
Coin-trees, where the coin is embedded edgeways into the trunk or branches of a tree – either in a living specimen or, as in this case, a fallen log - are known throughout the UK. The earliest recorded one is on the Isle of Maree in the north-west of Scotland, near the healing well of St. Maelrubha. The traveller, Thomas Pennant, in his 1775 published book A Tour in Scotland and Voyage to the Hebrides, describes how rags were originally left on the tree.[1] In later years these rags were replaced with pins and nails, and by the late nineteenth century, coins took over as the preferred offerings. Queen Victoria visited the Isle in 1877. She described the tree in her diary in an entry dated 17 September 1877:
'for everyone who goes there to insert with a hammer a copper coin, as a sort of offering to the saint who lived there in the eighth century … We hammered some pennies into the tree, to the branches of which there are also rags and ribbons tied.'[2]
Ceri Houlbrook in her article The Mutability of Meaning: Contextualizing the Cumbrian Coin Tree (2014), notes that at present there are catalogued thirty-three coin-tree sites (some sites having more than one tree there) in the United Kingdom. Other examples include those at Fairy Glen Falls in Scotland, Tarn Hows in the Lake District, one in the grounds of Bolton Abbey and one near Mountrath in County Laois. There is even an example to be found at Portmeirion in Wales. Whilst some have been around since the late nineteenth to early twentieth centuries, many of these coin-trees have, she notes, been created in the last twenty years.
The purpose of knocking coins into a tree or a log is obscure. Certain theories have suggested they were healing superstitions or invocations. The use of trees as healing remedies has been well documented over the centuries – perhaps the coins were once considered a token or offering to bring about a cure. Others see the coin-tree as similar to that of a coin being tossed into a wishing-well. The action of knocking a coin into the tree with a pebble or rock might be done in the hope that a wish will come true. Certainly, coins have a long history in folklore and they have often been used for luck, such as in fishing or as a charm for carrying in the pocket.
The Parkmill coin-tree is a relatively modern piece of folklore – it has hundreds, rather than thousands of coins, and the log has not rotted too much with age. It is unlikely that belief in the log's healing ability has been the motivation for the creation of this coin-tree. More likely, the hundreds of coins embedded in there is the result of what Houlbrooke terms as an 'obligation'- a desire to join in with the creation of a piece of art-work or a tangible community activity. It certainly fascinated our walking party, especially the children. In the end I didn't leave my own coin in the tree, but I aim to return very soon to do so. My own wish is to be part of this beautiful example of folklore and in doing so encourage others to stop in their tracks and contemplate it a while.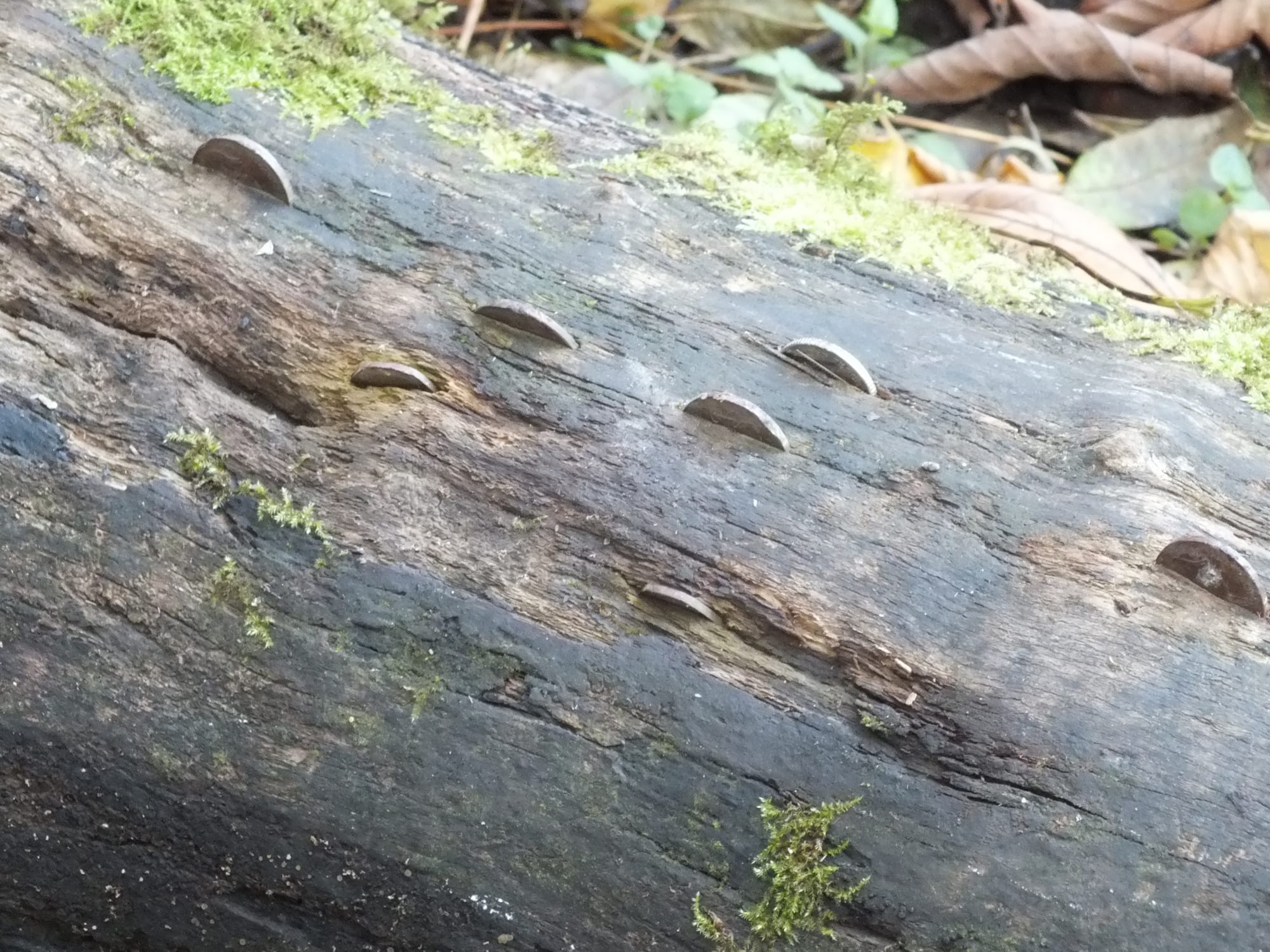 Further Reading:
Houlbrook, C. (2014) The Mutability of Meaning: Contextualizing the Cumbrian Coin-Tree in Folklore Vol. 125, No. 1 (April 2014), pp. 40-59.
John Billingsley 'Coin Trees: A New Tradition, or a New Artefact?' (2011) on the Northern Earth magazine website https://northernearth.wordpress.com/index/the-hollow-land/
Wales Online (2011) Putting coins in trees rooted in superstition https://www.walesonline.co.uk/news/wales-news/putting-coins-trees-rooted-superstition-1815850
[1] Houlbrook (2014), pp 40-59.
[2] Houlbrook (2014), pp 40-59.