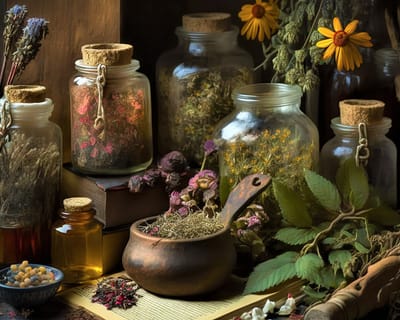 Sorry I have been a bit quiet on here of late but I can now reveal what has been keeping me busy!


Josie and myself have been working with the lovely folk at the Gower Heritage Centre to put together the Medicine, Myth and Magic in Gower Project.


Grants are currently being assessed for to help create a magical apothecary within the Centre, together with an apothecary garden which will showcase medicinal herbs and plants. Both will become part of the wonderful exhibitions currently housed there.


Research will be underway shortly to explore Gower's medicinal past. We will delve into the area's folklore and magic, together with more traditional medicinal practices, and explore the ways people healed and prevented illness over the centuries.


We now have a fantastic unit to work from - you will find us next door to the post office - please do call in and say 'hi'.
The Centre will also function as a base for Folklore get-togethers, as a reference hub and for events!


You won't want to miss the exciting things which we have in store. We will be launching a series of workshops, talks and courses and collaborating closely with some amazing local people and businesses.


We will be sharing news about the progress of the project here and also on Instagram under the name medicine.myth.magic.gower


Folklore information and events will be posted here on Facebook - on my page here or via Swansea and Gower Lore, as well as over on Twitter (GowerLore) and Instagram (GowerLore). Please share with anyone you think would like to hear about our news.


Whichever way you decide to follow us we will take you with us into the mystical world of magic, folklore, and medicine in Gower!


If you would like to find out how to get involved in this exciting project, or if you would like to get involved in the organising of the folklore calendar of events, please drop us a message! We'd love you to be part of the team.


In the meantime, follow our journey, immerse yourself in the wonder, and be the first to know about any upcoming events.